The Junk Removal Dudes™
To The Rescue.
Junk removal services you can count on to offer the best pricing, superior customer service, and fast results. Serving Northern Illinois since 2015.
Whatever you've got,
we'll take care of it
Whatever you've got, we'll take care of it
Get A FREE Junk Removal Quote Below!
We work hard to deliver the best pricing in town. And the best results, guaranteed!
We accommodate your schedule, arrive on time, and work quickly. Since 2015, we've received over 500 reviews, all perfect 5-star ratings from customers.
Send us a picture of your junk, and we'll send a quote within minutes. Easy as that!
We are a fully insured and licensed junk removal service company.
50% of what we collect from you, we recycle!
This Is NOT Another Guy With a Pickup Truck
Something that started as an accidental part-time rubbish removal hustle in 2015 has now grown into a successful junk removal business that we couldn't be more proud of.
Today, with 20 employees serving over 42 cities in Northern Illinois and now Southern Wisconsin & Northwest Indiana, the Junk Removal Dudes™ provides professional on-demand service for residential and commercial customers. 
We've helped countless people get cleaned out of their homes, made some really amazing friends, and even have a few stories that we'll be sure to tell our kids one day. The best part about it all is that we're still just getting started!

We'll Take Care Of That MESSY Junk
The Junk Removal Dudes™ are here to help with all your junk removal needs. We are licensed and fully insured to remove rubbish from your property safely and quickly, and we have a friendly team to make the process as smooth as possible.
We offer a wide variety of junk removal services
throughout Northern Illinois and surrounding areas.
Our services range from removing furniture and emptying storage units, to hauling construction debris and appliances.
We lift, load, and haul away all your junk items so you can sit back, relax, and enjoy your clean, organized space.
Cheryl Hasenjaeger
We are so thankful we found the Junk Removal Dudes to help us empty my mother-in-laws 3-story home (including everything in the garage and shed)! They were awesome to work with, from start to finish, and the price was very reasonable. The guys were efficient, hard-working, funny, and pleasant. They asked us a lot of questions regarding what we were throwing out, and they made us feel comfortable throughout the process. We will recommend them to everyone!!
John Gambino
During a bathroom remodel, I started accumulating the usual junk (old pipes, busted drywall, splintered wood, wrapping from boxes and materials, etc). I found this local company after a quick online search and placed a call. I provided a brief description of what I was looking to have hauled away, and after sending a few pictures got a reasonable quote and ETA for next day pickup. The next morning, I received a heads-up courtesy call that the truck was on its way. Two dudes showed up polite and energetic, and without needing any of my help, loaded up the junk without issue. I highly recommend this local team for any junk hauling needs.
Adriane Nemeth
Reached out to The Junk Removal Dudes last minute needing help that day. I was contacted right away, got a quote and the guys came out within hours. Alonzo and Mike were beyond AMAZING! They were courteous, helpful, friendly, and just flat our AMAZING! So good to see 2 awesome young men in this day and age. Huge shoutout to those 2 for a job well done! Would definitely use them again in the future.
Michelle Casazza
Alex is AMAZING ‼️ Text pics 20 minutes later got a call. 45 minutes later arrived at house😮 Loaded up, was super kind and helpful. HIGHLY recommend ⭐️ ⭐️⭐️⭐️⭐️
Chris Fioretto
We had a hot tub removed. These guys were great. Responsive, respectful and professional. They made sure everything was cleaned up before they left. There was a mistake made and minor property damage done, though. The crew was remorseful and apologetic. The owner and guys are making it right. I would recommend this company for junk removal in the area anytime.
FEATURED ON ROCKFORD TV 23
"The Junk Removal Dudes™ have expanded to the Rockford, IL area. Now covering Rockford, IL, Belvidere, IL and Cherry Valley, IL."
FEAT. ON PENNY HOARDER (6.8 MILLION FACEBOOK FOLLOWERS!)
The Junk Removal Dudes™ featured on "Penny Hoarder" business website. Article written by Tiffany Connors.
The Junk Removal Dudes™ featured in the Chicago Tribune. Article written by Denise Crosby.
FEATURED ON WGN 9 CHICAGO
"Around Town With Ana Belaval" of WGN 9 featuring the Junk Removal Dudes™. 
The Junk Removal Dudes™ feat. in the Kane County Chronicle. 
FEAT. IN THE NORTHERN STAR
The Junk Removal Dudes™ feat. in The Northern Star.
With upfront pricing and no hidden fees, you'll always know what you're paying for. We will give you a fair and honest price, load up your unwanted items, and take care of your junk removal. We also provide assistance with clean up if needed.
Our full service junk removal service includes all labor, transport, and disposal costs and we guarantee that we won't bother you with anything extra such as congestion charges, parking fees, or fines that come with other removal services.
We Do ONE Thing And We Do It Well
We strive to provide an impeccable junk removal service from start to finish, and we're always on time, so you don't have to wait around for us.

Your free time is better spent on other things!
Our responsive customer care team is always happy to help you with any service detail, big or small. We believe that great customer service is just as important as the service we provide, so you can expect to be greeted with a smile and have a conversation with our team.
When you're ready to book with us, you can do it online or over the phone and you'll be asked a few questions about the move to make sure we're sending the right crew. We'll arrive on time and work around your schedule. We respect your time by never wasting it.
Ready To Get Rid Of
Your Junk?
Call or text The Junk Removal Dudes™ for an INSTANT, FREE QUOTE!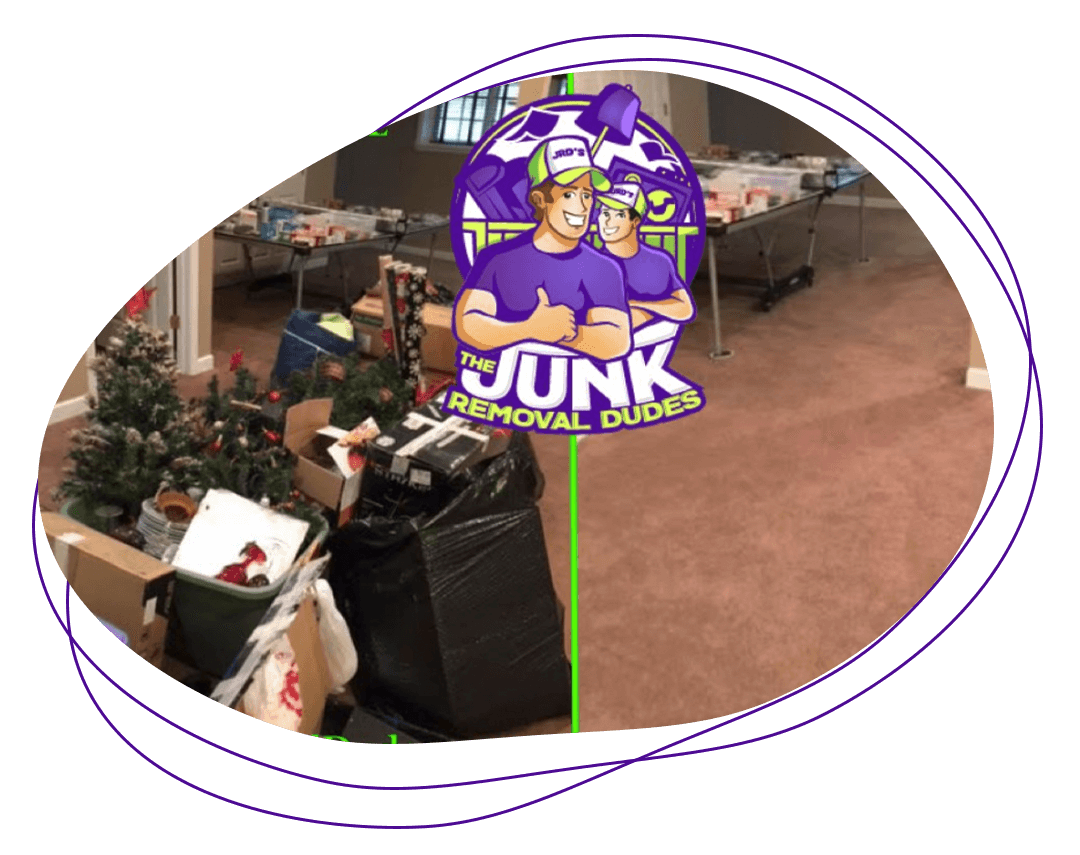 Book THIS WEEK and receive $25 off with code "DUDES"
Or fill out the contact form below and we'll get back to you within minutes!