MONTGOMERY, ILLINOIS
JUNK REMOVAL
Need Junk Removal Services In Montgomery, IL?
If you're looking for the best junk removal services in Montgomery, IL look no further than The Junk Removal Dudes®. With years of experience in the industry, we have the knowledge and expertise to get the job done right.
We offer a wide range of services and can handle any size job. No matter what you need removed, we can take care of it quickly and efficiently.
We're also affordable, so you won't have to break the bank to get your junk removed. And, we offer a satisfaction guarantee, so you can be sure you're getting the best possible service.
If you're ready to get rid of your junk, give us a call or text us today. We'll be happy to provide you with a free estimate and answer any questions you may have.
Live In Montgomery, IL And Need a Junk Removal & Hauling Quote?
We Make Junk Removal Easy
It's no secret that getting rid of junk can be a daunting task. Whether you're dealing with a few large items or a whole house full of stuff, it's easy to feel overwhelmed. That's where we come in. We make junk removal easy by providing a hassle-free service that takes care of everything for you.
Here's how it works: simply schedule a pick-up time that's convenient for you and our team will come to your location and take care of everything. We'll load up all of your junk and haul it away, leaving you with a clean, clutter-free space. And because we recycle and donate as much as possible, you can rest assured that your junk will be disposed of responsibly.
So why choose us for your junk removal needs in Montgomery, IL? We make junk removal easy and stress-free, so you can focus on the things that matter most to you.
The Best Junk Removal Service In Montgomery, IL
If you're like most people, you probably have a lot of junk around your home that you need to get rid of. Maybe it's old furniture, clothes that you no longer wear, or just general clutter. Whatever the case may be, you need a professional junk removal team that you can trust to get the job done quickly and efficiently.
There are a lot of benefits to using our professional junk removal team. For one, they have the experience and expertise to know how to properly remove and dispose of your junk. They also have the right equipment to get the job done quickly and safely. And perhaps most importantly, they will take care of all the heavy lifting and hauling for you! We'll make sure that your junk is removed quickly and efficiently, without any hassle on your part.
Call or text us a picture of your junk and receive a free quote within minutes! 
We Recycle 50% Of The Junk We Collect
As a junk removal company, we are committed to being as green as possible. We know that the stuff we haul away isn't just junk to be thrown out. It's someone's unwanted belongings, and we treat it with respect. We also know that a lot of the stuff we haul away can be recycled or donated, so we make sure to do that whenever possible.
We're always looking for ways to be more green, and we're always trying to find the most environmentally friendly way to dispose of the items we can't recycle or donate. We hope that our efforts will make a difference, however small, in the fight against climate change.
So, if you're looking for a professional, reliable, and affordable junk removal service in Montgomery, IL, look no further than The Junk Removal Dudes®.

Ready To Get Rid Of Your Junk?
Call or text The Junk Removal Dudes® for an INSTANT, FREE QUOTE!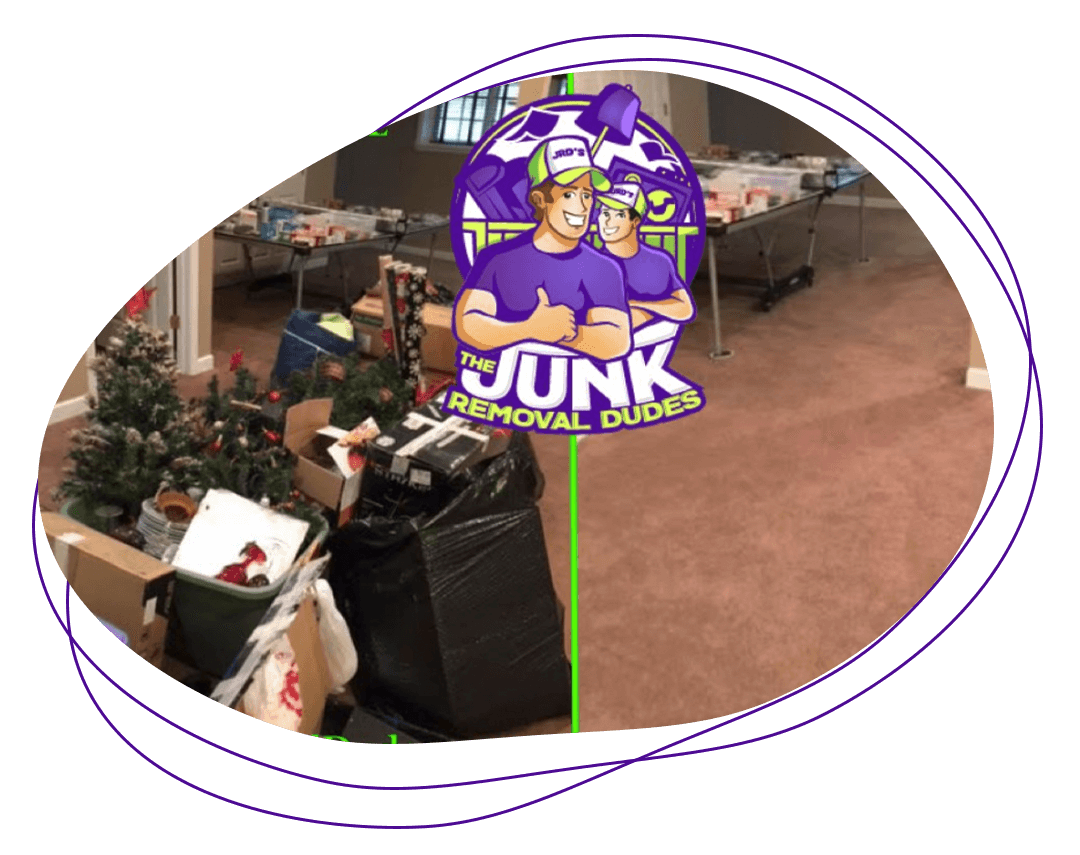 Book THIS WEEK and receive $25 off with code "DUDES"
Or fill out the contact form below and we'll get back to you within minutes!